GOAL in South Sudan


It has been just over 3 months since tribal-based conflict erupted in South Sudan. In that time, thousands of people have been killed, more than 700,000 displaced from their homes by the violence, and the nation has been plunged into the depths of uncertainty, desperation and fear. A critical humanitarian crisis has developed in South Sudan.
GOAL is working hard to deliver aid and assistance to thousands of displaced people. We are vaccinating women and children, screening children for malnutrition, delivering general medical care, distributing hygiene and other materials, and building latrines.

Most of our 46 primary healthcare clinics, which cater to 500,000 beneficiaries, have continued to operate throughout the fighting, although some have been vandalized.



Violence against women is a major issue in South Sudan. Please take a moment to view this brief video to hear from the women in South Sudan, and learn how GOAL is supporting women and children.
GOAL USA 2014 Annual Benefit Ball
Gotham Hall

1356 Broadway, New York City
Friday, October 17th, 2014



Secure a table and celebrate GOAL's lifesaving work around the world.


For more information, contact Elaine: eryankennedy@us.goal.ie/+1.212.831.7420




Our Annual Benefit Ball raises important funds for GOAL's global humanitarian programs. Last year we held a special appeal for our emergency relief efforts in Syria.

GOAL is one of only a few agencies working inside northern Syria, delivering vital aid to 500,000 displaced people every month. Many thousands of displaced Syrians would struggle to survive without GOAL's assistance.


Happy St. Patrick's Day – Get your GOAL USA shamrock badges!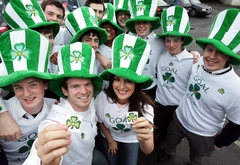 Irish rugby legend, Gordon Darcy,
and former Miss Ireland, Andrea
Roche, support the Badges
The St Patrick's Day Badges campaign is an annual project run by students in Blackrock College, Dublin to raise funds and awareness for GOAL.



Earlier this year, several Blackrock College students travelled to Kolkata, India to find out how some of the funds they raise support vulnerable families in many of the poorest parts of the city.



This year GOAL USA is offering St. Patrick's Day shamrocks to all donors during March.



Elaine Ryan Kennedy, Director of Development GOAL USA explained, "The badges are a great way to celebrate all things Irish and show support for people in need. Individuals or companies that are interesting in supporting the campaign should contact our office directly at 212-831-7420 or email info@us.goal.ie.

All proceeds will go directly to GOAL's global humanitarian programs, which deliver life-saving assistance to over 4 million people in 14 countries around the world.





The Philippines, Four Months after Typhoon Haiyan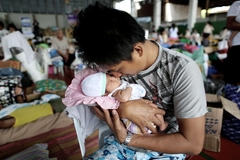 Typhoon Haiyan, one of the most powerful storms to ever make landfall hit the Philippines last November, wreaking unprecedented levels of destruction.

More than 6,000 people were killed in the disaster, and over 14 million were affected, of whom four million were left homeless. GOAL quickly launched an emergency response program to provide essential aid to those who were hardest hit.

By early December GOAL had distributed food, shelter and other essential non-food items to 25,000 people. Since then, another 42,000 people in the region have received aid form GOAL.

James Kelly, a key member of GOAL's emergency response team was on the ground just days after the Typhoon hit and described the situation: "I think it is the worst I have ever seen, even worse than the earthquake that shook Haiti four years ago. Everything was destroyed in the typhoon's path, nothing escaped. In Tacloban, I saw bodies being bagged by traumatised police officers. There was no food, no water, no shelter and no basic essentials to be found anywhere in the city.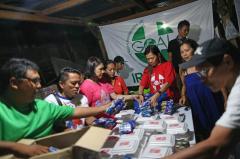 However, the Filipino's are a resilient people. GOAL worked day and night to bring aid to those who needed it most and continues to do so. I helped organise the initial distribution of non-food items to 25,000 people. Every family wanted to thank us personally. It was an incredibly humbling experience."

Elaine added, "It is a long road to recovery for the Filipino population. Not only have people lost their livelihoods, they are also dealing with the catastrophic emotional toll that the storm has taken on so many families. GOAL is devoted to supporting these communities as they rebuild their lives. This past month, for example, we initiated a cash transfer program in the area, which now supports thousands of people. This is especially important to vulnerable households, including elderly citizens and those with disabilities.

"We are very grateful to all our supporters for their commitment to our work in the Philippines. We cannot do this alone. We hope our supporters will continue to remember the survivors and help us to rebuild lives in the Philippines".



Please let us know what you think of our e-newsletter!



E: info@us.goal.ie | T: +1.212-831-7420 | W: www.goalusa.org
41 Union Square West, Suite 414, New York, NY 10003

| | |
| --- | --- |
| | Copyright ©2014 GOAL. All rights reserved. |